It's a lot, being human in this life, isn't it?
So much information, stimulation, so much to hold all the time. So much to navigate.
It's totally understandable, and may I say human, to feel lost at times. To lose our centre.
To feel overwhelmed and underwhelmed all at the same time.
When we have lost touch with our centre, it's common to feel unable to make choices, to be stuck in overthinking spirals, to lack purpose/direction, to engage in lots of numbing and people pleasing, to find it difficult to create meaningful change. It's also very common to experience anxiety and stress as a result.
I'd love to invite you to enjoy this self development, experiential workshop which will support you in reconnecting to yourself, to find your centre again.
Combining gentle and accessible yoga practices (with lots of variation), breath work, coaching prompts, writing and introspective practices, you're encouraged to explore:
How you can find stillness in the midst of chaos and confusion

How to tap into your inner strength and inner guidance for support

What you currently need to find your centre

How it feels to be led by your centre
​
This experiential 2hr workshop is an invitation for you to switch off from the outside world, slow down and reconnect to your core.
Please note: This is NOT a live event: This is the video recording of a live workshop.
---
What you get:
When you purchase the workshop you receive full unlimited access to:
Find your Centre Online Workshop Video Recording (Duration: 2hrs)
Plus access to Find your Centre Worksheet
Pricing: £25 or Pay what you can (see below)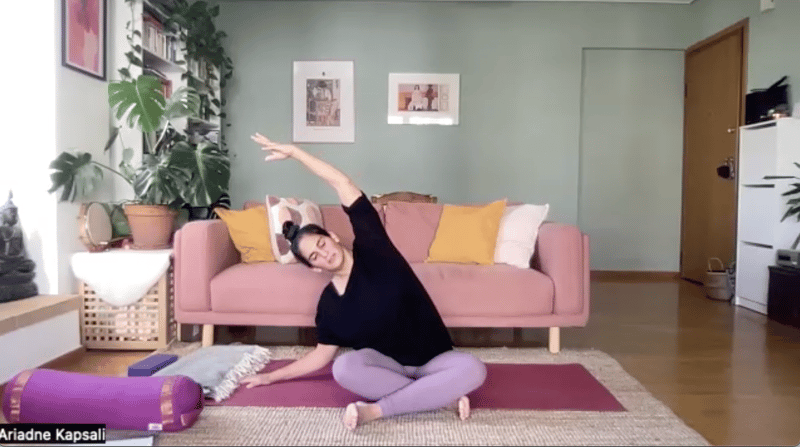 ​
What you need:
Access to Computer, Internet connection, pen & notebook, comfortable clothing you can move in, warm clothes for relaxation/meditation time, yoga mat, cushions/bolster/something to sit on.
When you purchase the workshop you will receive an email to download your files (video + worksheet). Any issues or questions, please email hello@ariadnekapsali.com
---
A note on Pricing:
The cost of the Find your Centre Workshop is £25. You're welcome to choose another amount that is possible for you (minimum £12 and up). I am offering Pay what you can in order to keep my services as accessible as possible. If you can afford the full rate (or if you'd like to donate more), I ask that you do, as it will allow me to continue to offer reduced & pay-what-you-can options for my work.
I trust you to choose the price that supports you (there is no need to overthink this!).
---
Payment Terms:
There are no refunds given for this virtual workshop as I am certain it fulfils the description above. All bookings include access to the recording, for you to keep. Please purchase mindfully.